AN ADSL DEVICE: What, How and Where
This is a look at an ADSL Device, specifically using the example of the model and make of a Dynalink RTA Modem/Router.
An ADSL Device allows us to use frequencies on our phoneline that we cannot hear through the telephone itself. These frequencies allow data to travel at high speeds. Following is a graphical example of the front panel on an ADSL device.
Notice the various types of statuses per light, the example below shows them as if they were all solid green.
rta1320_p1_frontpanel
<![if !vml]>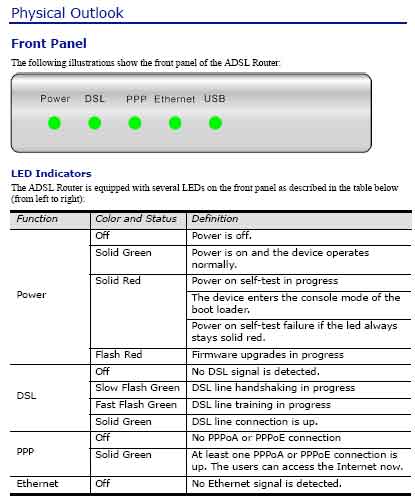 <![endif]>
Following is a graphical look at the back of the ADSL device. Notice the different ports at the back. A description of them follows.

rta1320_p2_rearpanel
<![if !vml]>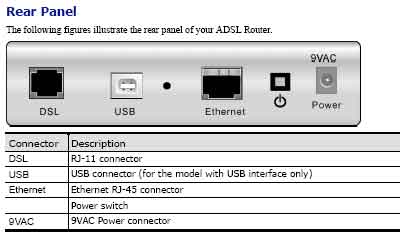 <![endif]>
The

DSL

Port is where you plug the chord that runs from the phone jack.
The

USB

Port is used to connect one PC that does not have Ethernet. If your PC does have an Ethernet port, then

DO NOT USE THE USB PORT

as it drains more resources from your system.
The

little

black

dot

is a Reset Router button. ONLY PUSH THIS BUTTON WHEN ADVISED BY DYNALINK OR THE ISP.

Ethernet

is the port where you connect a UTP Cable. The other end of the UTP cable can be plugged into an Ethernet card of a PC directly, or it can plug into a Hub or Switch or other such Ethernet device that allows users to share files and internet on a Local Area Network (LAN).
System Requirement
To access the ADSL Router via Ethernet, the host computer must meet the following requirements:
Have a PC that is ethernet compliant:

Has an Ethernet network interface (ethernet / network card) installed.

Must have TCP/IP installed.

Has a web browser installed: Internet Explorer 5.x or later.
The ADSL Router is configured with the default IP address of 192.168.1.1 and subnet
mask of 255.255.255.0. As the DHCP server is Enable by default, The DHCP clients should be able to access the ADSL Router. Or you could assign an IP address to the host PC first for initial configuration.
You also can manage the ADSL Router through a web browser-based manager: ADSL ROUTER CONTROL PANEL. The ADSL Router manager uses the HTTP protocol via a web browser to allow you to set up and manage the device.
To configure the device via web browser, at least one properly-configured PC must
be connected to the network (either connected directly or through an external
hub/switch to the LAN port of the device).
Choosing a place for the ADSL Router
Place the ADSL Router close to ADSL wall outlet and power outlet for the cable to reach it easily.

Avoid placing the device in places where people may walk on the cables. Also keep it away from direct sunlight or heat sources.

Place the device on a flat and stable stand.